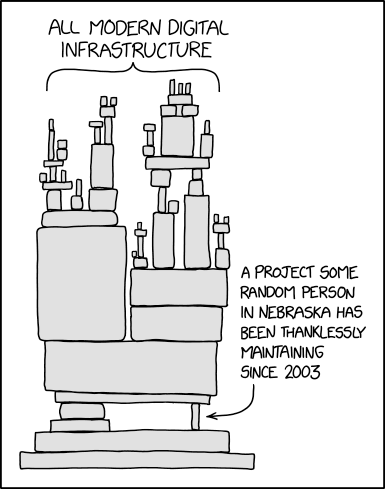 People don't appreciate how thin the line is on a technological civilization. It is like a house of cards in many ways, or like this comic from XKCD. While the XKCD comic is about digital infrastructure, it could also be about most infrastructure. As power is restored for most Texans, water problems begin to mount.
And electric power is probably at the base of everything we do today.
Leaks caused by frozen pipes have pushed the state's water supplies to the brink. More than 14.9 million Texans, more than half the state's population, have disruptions in service, according to Tiffany Young, a spokeswoman for the Texas Commission on Environmental Quality. More than 1,300 water supply systems and 62% of Texas counties are affected.
Say it again: More than 14 million people in Texas have no water. No drinking water. No water for sanitation. No water for cooking.
While you can go about your business if it was just that your power was out, once that power is restored, (you probably have a refridgerator full of spoiled food) if your pipes freeze, that is another kettle of fish. Plumbing will need to be ripped out and replaced. Carpets will probably need to be replaced. Drywall doesn't hold up well to being soaked. The lead photo at the CNN article linked at the top is of a ceiling fan, with icicles... Not all electrical appliances, like fans and such, respond well to being doused in water and then frozen.
And hindsight being 2020, someone, somewhere should have warned the people in Texas about frozen pipes and told them how to drain the system. Though there is a question in my mind of whether or not they would have believed it. (Freezing pipes? That can't happen in Texas!)
Next up will be the problem of how far into the future plumbers will be booked. They will do their own homes. Then their parents' homes. Then their friends...
The Organic Prepper actually has the more interesting take than CNN. Things Keep Getting EVEN WORSE in Texas: Frigid Temps, Blackouts, and an "Overwhelmed" Water System - The Organic Prepper
It's important to keep in mind that the current weather conditions are very unusual for Texas. Many homes there aren't built to withstand temperatures that freeze water pipes or with secondary heating systems that aren't connected to the grid. The municipal infrastructures were also unprepared for weather of this magnitude.
I would say that today, in most places in the US, if the grid goes down for an extended time, people will be without heat. Oh, they might have a fireplace, but they don't have a stock of wood. Furnaces rely on fans, and digital thermostats.
There is also good info at The Organic Prepper's Prepping for a Blizzard: A Practical Survival Guide
We are told that renewable energy is good for the environment. How much energy will be burned in Texas over the coming year to fix this disaster, to boil water, to haul carpeting to the landfill, to manufacture new carpeting, and new plumbing fixtures and new drywall?